FONCPL MEMBER GROUPS ELIGIBLE TO ENTER DRAWING FOR A STORYWALK!
 What is a StoryWalk®?
We hope you are familiar with this wonderful way to read a book to a child.  A StoryWalk® is a fun, educational activity that places a children's story (literally a book taken apart due to copyright law) along a popular walking route or at an event in a community. Each StoryWalk® panel has a literacy component and an exercise component.  They can be used both indoors and outdoors. To read more about StoryWalks®, click here.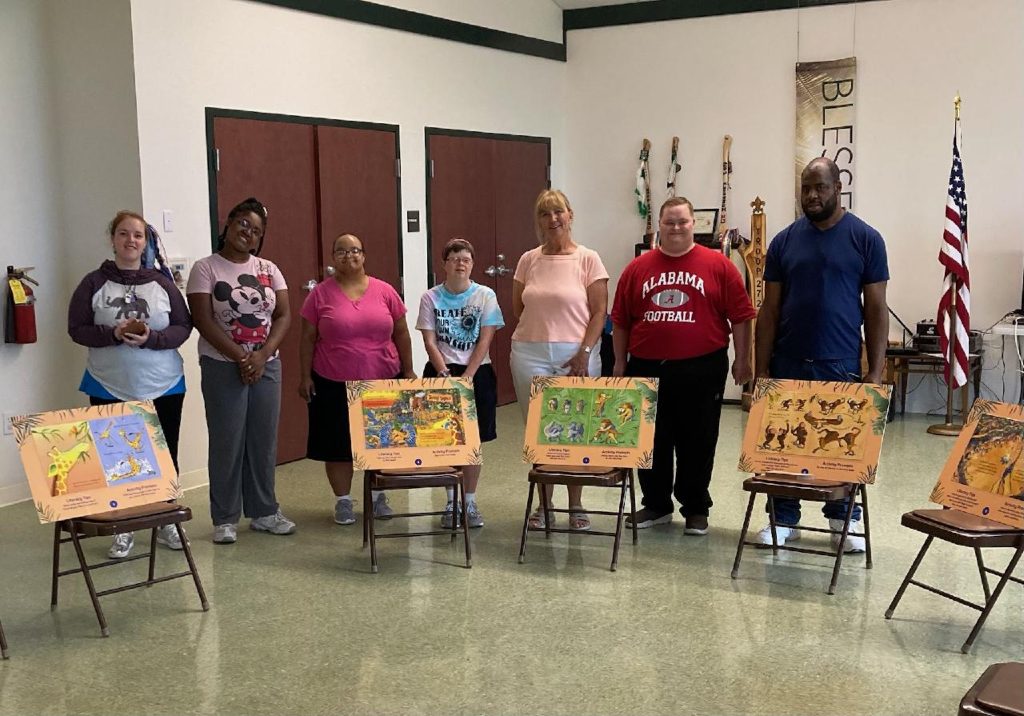 What is FONCPL offering?
The Friends of the New Bern-Craven County Public Library has worked with a local printing company's designer to create backgrounds, literacy tips and activity prompts.  These are very colorful and are printed on 18" x 24" waterproof corrugated plastic signs (like political signs).  The pages of the story from the book are laminated (10 mil) and are then glued to the background.  There are 20 pages with each set.  The first page is the book title with logos and contact information for the sponsors (or funders).  The second page is instructions on how to use the tips and prompts.  Pages 3-19 are pages from the book.  Page 20 is a blank announcement page where you can add a message on cover stock which can be changed each time you use the story.  The set of 20 panels comes with metal frames which are inserted into each panel and then stuck in the ground (see photo below).  The winner gets to pick from six different titles, one of which is bi-lingual (Spanish/English).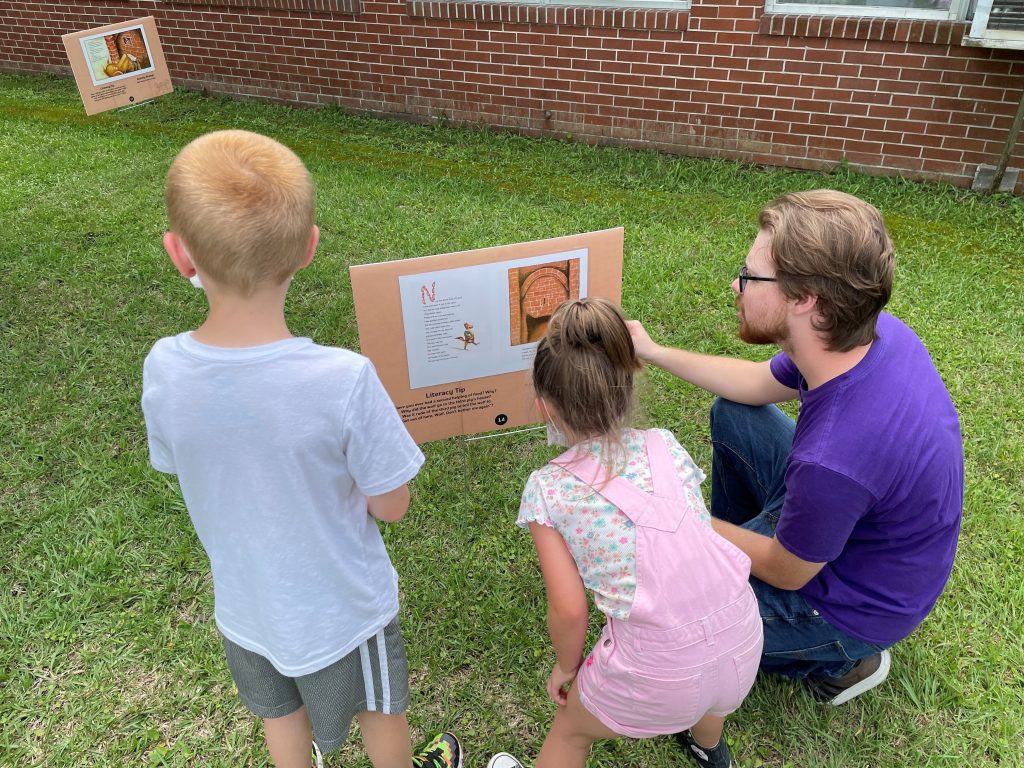 Who is eligible?
Any FONCPL Group (new or renewing) current on their dues as of February 15, 2023.  We want to give this StoryWalk® to an FOL group that does not already have access to StoryWalks® in their community.  We hope that in addition to being a great literacy tool, that it will also help the local FOL to generate new members and perhaps sponsors for additional StoryWalks®.
How will this work?
We will post a very brief application on the FONCPL website on January 2nd.  We will ask you to pick the title of the story you prefer.  The application period is open to February 15, 2023 at 11:59 PM.  A few days later, we will put the names of every legitimate entry into a container and someone outside FONCPL will draw out the name of the winner.  As soon as possible we will notify the winner and will post the winner's name on our website.
We will coordinate with the winner to get the needed logos and contact information for the first page of the StoryWalk®.  Our hope is that the StoryWalk® will be done and shipped to the winner in time to use it during National Library Week (April 23-29).  The Friends of the New Bern-Craven County Public Library have a lot of experience with using temporary and permanent StoryWalks®.  They have agreed to provide virtual assistance.
What titles are available?
Giraffes Can't Dance, Grumpy Monkey, The True Story of the Three Little Pigs, Walter the Farting Dog, Rainbow Fish and the bilingual Delicious Hullaballoo.
If we don't win, could we purchase a StoryWalk® set?
YES!  The Friends of the New Bern-Craven County Public Library would be happy to discuss this with you.  The price will not include any profit—just actual cost of production and shipping (if applicable).
Questions?
Email FONCPL President Judy Hills at jahnbnc@gmail.com
To apply by February 15, 2023:
Click here Storywalk drawing application for fillable pdf form.
Good luck!