HISTORY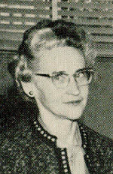 Frances B. Reid was the guiding force in organizing and establishing the Friends of North Carolina Public Libraries (FONCPL) organization in 1980. As a consultant in Library Development at the NC State Library, she encouraged volunteers, helped draft organization bylaws and was always there when questions needed answers. She exhibited wit and wisdom that was needed to bring FONCPL into fruition.
The Bylaws of the Friends of North Carolina Public Libraries were first adopted April 2, 1980, but Articles of Incorporation were not filed with the State of North Carolina until April 12, 2006.  The FONCPL became a 501(c)(3) tax exempt organization on July 26, 2009.
In October 2021 we created a new FONCPL logo, a new website, and gave our newsletter a name, "NC FRIENDS TALK."
Frannie Ashburn was a leading force in encouraging Friends volunteers across North Carolina. Following her retirement as State Library Liaison to FONCPL in 2011, the Board voted to name the Volunteer of the Year Award in her honor.   On August 13, 2022 the FONCPL Board decided that it was time to retire the Frannie B. Ashburn Friend of the Year award--as it has been handled in the past.  Since then every Friends group may nominate an individual member for FONCPL  recognition each year.
On August 13, 2022, the FONCPL Board also elected to discontinue the Frances B. Reid Friends Group of the Year award due to lack of participation over the past several years.